About The Artist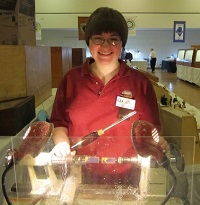 Written In Wood Composite Gifts
About Mary Boesdorfer
Growing up in central Illinois, I always enjoyed doing arts and crafts. Homeschooled from kindergarten, I was always trying something new, including knitting, cross-stitch, painting, jewelry making, etc. In 2006, when I was 13, my Grandfather decided to teach me how to wood turn. After learning the basic skills I saw a kit for making a wood turned pen, so I decided to try it. After making my first one I was hooked. After a couple of years of practicing and trying some new things I tried selling my work at a of couple of local craft shows. Reception was good and people were amazed I was so young. The following year I started participating in juried art fairs and expanded my stock to include other small items. I was also continuing to try new mediums. I soon purchased some 2-part, acrylic resin that I could use to make my own unique pen blanks. To do that I would mix a little hardener into a measured amount of the resin, stir in whatever I'm making the pen out of, and then pour it into a mold a let it harden. I started making blanks out of things like cereal, corn kernels, soybeans, coffee beans, etc. My mother, who is a quiller, always has a pile of scrap coils that were the wrong size or color and I thought it would be fun to try making a pen out of those. It turned out even better then I'd hoped. Each one is so unique, not just because of different colors, but the way the quilled pieces show up in the pen. In fact the more different types of coils and techniques, i.e. tight coils, husking, in a pen the better. Nowadays I do 6-10 shows a year. I've been lucky to win several awards at juried art shows including 1st and 2nd in my category. I also received awards for wood turned projects that I entered in my local 4-H show.
To see more of Mary's amazing work you can visit her at www.WrittenInWood.com
You can sending email to WrittenInWood@gmail.com
Her mailing address is:
Mary Boesdorfer
9611 Breckenridge Rd.
Rochester, IL. 62563
Note: Quilled Acrylic Products Are Exclusive to Quilling Supply. No two are alike and due to the handmade process can have some small inclusions due to the nature of the products used.